ABOUT US
Our school is located in a little town called Kamuela, HI, where we are able to harness the energy from the five mountains: Mauna Loa, Mauna Kea, Haleakala (Maui), Kohala, and Hualalai. We will be having classes with smaller class sizes for a more intimate learning setting, the courses we have are a comprehensive and knowledgable staff to teach the necessary techniques and practices needed to meet the requirements of the Hawaii State Board Massage Licensing Exam, which can be viewed
here
.
CLASSES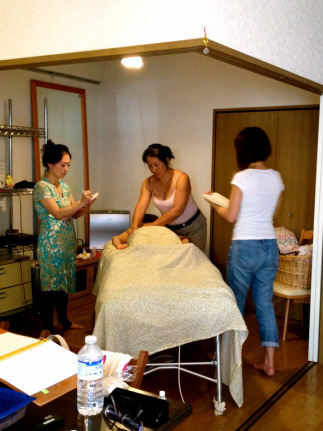 Level I 150 hours State Approved Class ​
The first step to become professional massage therapist
50 hours of anatomy, physiology, and structural kinesiology. 100 hours of theory and demonstration of massage, including: the proper massage procedures, record keeping, hygiene, theory, techniques for specific conditions, contraindications of massage for specific techniques according to conditions, draping and assessment of the clients conditions and the general technique to be applied.
We are looking for students who are very serious to become a therapist who have self consciousness to cleansing, grounding and alignment of Sprit-Mind-Heart-Body.
Tuition: $2350.00**Manual:$150.00*
**Japanese and English manual are both available, each manual costs $150.00
**There will be an additional 4.116% sales tax charge

​​
Level II 100 hours Advanced Class
Useful knowledge and technique as a professional massage therapist
This course is for someone looking to learn specific techniques and specialized treatments. The students learn Kinesiology of each part of body, function/dysfunction and very useful technique easily applicable to your clients. There are 10 separate class/10 hours (2 days) each class. (1) Fascia Arm, (2) Fascia Shoulder, (3) Fascia Neck, (4) Fascia lower back, (5) Fascia knee, (6) Fascia Abdominal, (7) Fascia Head, (8) Lymph drainage, (9) Reflexology, (10) Effective Facial massage.
(1)~(6) 60 hour programs are the recommended classes for productive and effective massage.Tuition for full program: $1550Tuition per class: $155 (2-day x 5 hours) + each part of manualManual: $150.00*(15$ each part manual)*Japanese and English manual are both available, each manual costs $150.00
**There will be an additional 4.167% sales tax charge
Apprentice Program
This program can be taken congruently with the Level 2 classes, offering
hands-on
experience with clients. This program will help to satisfy the Hawaii State Board Massage Licensing Exam requirements, including: practical application in a supervised student clinic, record keeping, sanitation and extended study of massage.
*State application fee not included
Experience student's massage 40$ per hour in Waimea office. Reservation required. Call 808-987-6622
​"Ohana Massage" and Self Massage ClassesTeaches simple yet effective massage techniques for one to practice on family, friends, and even yourself
​This class is to give the chance for the community to know how to do massage for family and friends as a different way of communication and showing appreciation. There are 6 separate classes with 2 hours each you will learn (1) feet reflexology, (2) hand and arm, (3) Leg, (4) Head, (5) Shoulder (6) Back. We also have classes for self-relaxation massage as well.
Tuition for each part of body: $10 for each person, min. 6 paxIt is includes manual and 2 hours teaching for each part of body

Zerology 6 elements Life analysis reading technique Classes
Teaches useful knowledge for easy communication and relationship. You will have more different perspective of each individual personality and habit.
If you have difficulty to accept and see the close one, family, bosses and/or co-worker. It is the wonderful knowledge to have.
​This knowledge makes relationship to become more harmonious and easier to communicate to all other. This class is to give the useful skill for different understanding or perspective which become wiser your mind, and accept who you are and other.
It is also tell you or other which kind of your life stage, what is your life relationship (life karma) with your loved one, families, boss, co-worker and friends. The most valuable power of this class is you can see yourself and other more wisely and compassionate stages though there is much less conflict and more comfort.
We all know life could be so much easier if we see the event objectively.
This knowledge has the world patent, and the first acknowledged method's scholarship of divination.It is such a honor to introduce in the United State this knowledge.
The Zerology knowledge class has 3 different level.The First level < Beginner course >
The beginner class will study following ; * the basic understanding of 12 animal ancient zodiacs , 6 elements of the earth. * Calculation of your life season. * Discover your life purpose, this life characters, and Life karma for this life time. * Relationship Karma. * Color, flowers, direction, strong and weak part of body to each person and habit. * You will have a special patent tool to find each person's Zodiac, Element, life Purpose, Life nature and life ka

The Second level < Advanced course >
The Advanced course will study following ; * More depth to understanding of 12 animal ancient zodiacs , 6 elements of the earth. * 6 Elements Feng Shui * The behind reason of each sign which can tell "why this person think or do this action". * How to apply the element to the person's life period enhance and empower productively. * Meaning of Yin/Yang power. * 8 bagua and Zerology reading
The Third
level < Professional Divine
r course >
* This is the course that you can do reading as profesional Zerology reading practitioner. This method is patent registered. You will learn regulation, professionalism, ethics and all other support. Tuition for each class (takes about 6 months for each course)*: $2 ,500.00 * The course will set for 3-4 hours a month to meet, and rest will be online practice, experience and observation. **There will be an additional 4.167% sales tax charge
Zerology Feng shui, Life analysis reading and/or massage therapy rate
at our therapy room in Kamuela.
75$ per hour, Tip is not includes
ex:(1) 30 min. Zerology reading and 1 hour massage total of 1.5 hours massage = $112.50
(2) 2 hours massage or 2 hours Zerology reading $150.00. * Credit card payment will be add 4.167% tax on your bill.
Out call massage will charge traveling fee 50$ and hourly rate will be 100$/per hour.

ex:(1) 30 min. Zerology reading and 1 hour massage, total of 1.5 hours massage = $150.00+ traveling fee
(2) 2 hours massage or Zerology reading $200.00+$50.00 traveling fee. (3) 2 client x 1 hour massage each: 2 hours x 100$+$50.00 traveling fee = total of $250.00.
* Credit card payment will be add 4.167% tax on your bill.For more information, booking or to apply classes, please contact us at academyofsmarttherapy@gmail.com
---